Westwood has been going through great changes lately with repaired sidewalks and new vendors in an effort to make the village more engaging and pedestrian-friendly. You can find all sorts of shops and restaurants that satisfy your basic needs in the neighborhood, and every corner is very accessible by foot.

If you aren't familiar with Westwood or you never had the time to explore the area before, we have some suggestions of popular places that you might want to visit.
It's hard to miss this iconic 170-foot tall, historic landmark located at the busiest intersection in Westwood Village. The Village Theater opened on August 14, 1931, and has been the home of many Hollywood blockbuster premieres as well as the go-to movie theater for generations of UCLA Bruins.
Hint: They usually have free movie posters placed at the entrance next to the popcorn.
2. Rocket Fizz
Rocket Fizz is the candy heaven that any kid (or adults who are kids at heart) will go crazy over. They offer a large selection of sweets that range from bottled soda pop to bacon-flavored candies, and all will definitely satisfy your sweet tooth. Rock Fizz also offers snacks with exclusive flavors that are only sold in foreign countries, such as Green Tea Kit Kat and wasabi Pretz sticks.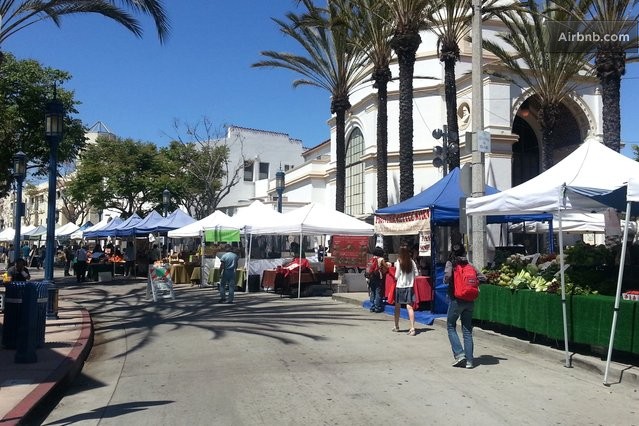 Westwood Village hosts its very own farmers' market on Broxton Avenue every Thursday from noon to 6 p.m. If you enjoy locally grown produce, fruit sampling, live music and handmade crafts, the farmers' market is a great place for an afternoon stroll or to pick up some freshly popped kettle corn.
4. Fat Sal's
Fat Sal's is a guilty pleasure that every Bruin secretly loves. Eating a sandwich stuffed with fries, cheeseburgers, mozzarella sticks and potato chips might not be the healthiest option for a meal, but you'll be surprised how addictive these sandwiches can be. If you have the guts to eat a 27-inch Fat Sal's sandwich in 40 minutes, take the Big Fat Fatty challenge and get the chance to create and name your own "fat sandwich"!
If there is one place that you must visit in Westwood, it has to be Diddy Riese. The freshly-baked cookies and very affordable prices explains the long  line that is perpetually in front of Diddy Riese. You can build your own ice cream sandwich for $1.75 or get a dozen of cookies for just $4! What is your favorite ice cream sandwich combination?
If you enjoy live theater, you can't possibly visit Westwood without watching a show at the Geffen Playhouse. The Geffen offers five plays per season that often feature award-winning actors, such as Neil Patrick Harris and David Hyde Pierce. You can find more information about shows and tickets here.
Feeling artsy? The Hammer Museum at UCLA has a wide range of collections and exhibitions, both classic and contemporary, that will surely inspire you. The Hammer Museum has recently eliminated its admission fee, which means that admission is completely free to the public! Check out the latest exhibitions here.
Did we miss out any other hot spots in Westwood? Leave a comment to let us know what other places in Westwood you like the most!